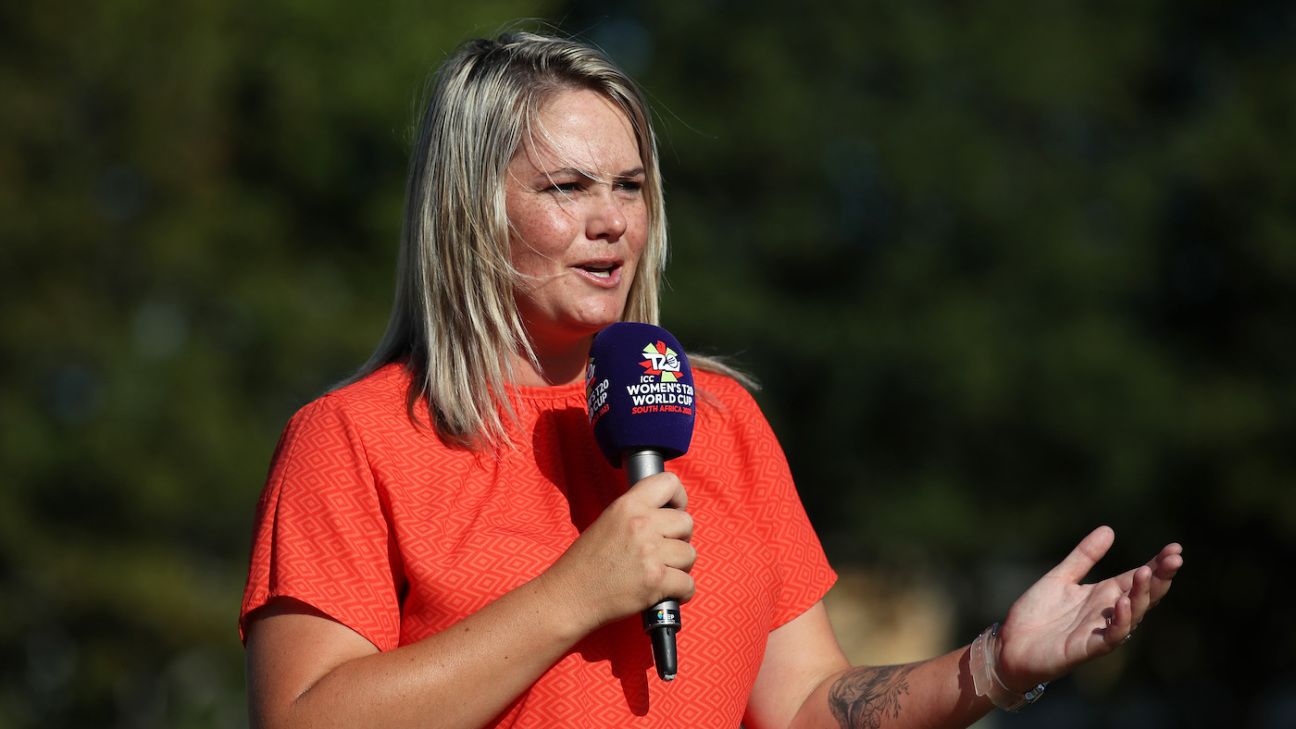 Dane van Niekerk, South Africa's former captain, has confirmed her retirement from all forms of international cricket, but will continue to play in T20 leagues. As reported by ESPNcricinfo last week, she was set to hang up her boots amid uncertainty of whether she would get a new national contract. At the time, she had yet to discuss the situation with Cricket South Africa. She has since communicated with them through her agent to confirm that she is walking away.
Van Niekerk, 29, has not played international cricket since September 2021. "It is with great sadness that I announce my retirement from international cricket," she said in a statement issued by CSA. "It has been the greatest honour to lead and represent my country. I am incredibly blessed to have led the team through its transformative years. There is no doubt that the women's game is in an exciting space and looking forward to seeing this beautiful game that I love grow
"I look back on my career fondly and have made incredible memories and want to thank Cricket South Africa and all other stakeholders for your support. Often the journey can be lonely, painful, and emotional, but would not change it for anything. I'm grateful for what this game has given me."
It's the last part of van Niekerk's career that reflected the emotions she mentioned after she was struck down by a lower back injury that ruled her out of cricket for most of 2020. Then she broke her ankle while trying to prepare for the 2022 fifty-over World Cup. Van Niekerk was out of the game for more than a year and attempted a comeback for the recently completed home T20 World Cup but could not make the side after failing the two-kilometre time trial benchmark of 9:30. She fell short by 18 seconds, running on a treadmill, and described herself as "absolutely broken," by her omission.
Sune Luus was confirmed as van Niekerk's permanent successor ahead of the tournament and led South Africa to a historic first-ever World Cup final.
Van Niekerk was at the tournament in a commentary role and was picked up at the WPL auction by Royal Challengers Bangalore. She left the World Cup early to train with the team but has not played a game for her new franchise. Instead, she has been spotted supporting her wife, Marizanne Kapp, at Delhi Capitals games.
It was Kapp who first raised the alarm of van Niekerk's retirement when she tweeted an "End of Era" message on Saturday followed by van Niekerk's sharing an Instagram story suggesting her time in the international game was done. "You have to accept that some chapters in our lives have to close without closures," van Niekerk posted. "There is no point in losing yourself by trying to fix what's meant to stay broken."
The couple has put up several messages since, culminating in Kapp's this morning in which she said her "heart breaks," for her wife, who "deserves so much better," and van Niekerk's which read "that's all," alongside a heartbroken emoji.
Van Niekerk also thanked Kapp in her retirement statement and pledged her support to her as she enters the prime of her career. ESPNcricinfo understands that Kapp remains committed to playing for South Africa and is expected to sign a new contract. "My wife, Marizanne, you have stood by my side since day one. Thank you for putting up with me and all that came with it, but yet, here you are. You are at the pinnacle of your career and it is my time to support you, the way you have supported me. I love you," van Niekerk said.
Van Niekerk is the second South African player to retire after being embroiled in issues over fitness following Lizelle Lee, who walked away last July after falling short of her weight requirement. Both players' decisions have come after CSA implemented more stringent minimum fitness requirements in the winter of 2022. While previously, female players had a guideline of running two-kilometres in under 10:00, it was reduced to 9:30 and became a strict criterion for selection. When questioned whether there should be different ways of measuring players' fitness CSA's director of cricket Enoch Nkwe and national women's coach, Hilton Moreeng, said the current criteria are "non-negotiable," and pointed out that all other members of the squad have met the requirement.
"I would like to take this opportunity to graciously thank Dané for all her years of service and contribution to not only the ground-breaking success of the Momentum Proteas over the last decade, but to the overall growth and popularity of women's cricket in South Africa and around the world," Nkwe said. "Her world-class cricketing ability and exceptional leadership skills are irrefutable and will surely be missed by her team-mates, coaches and all South African fans who have followed her journey over the last 14 years. We wish Dané all the very best ahead of the next chapter in her career."
CSA will confirm their women's contract list next week.