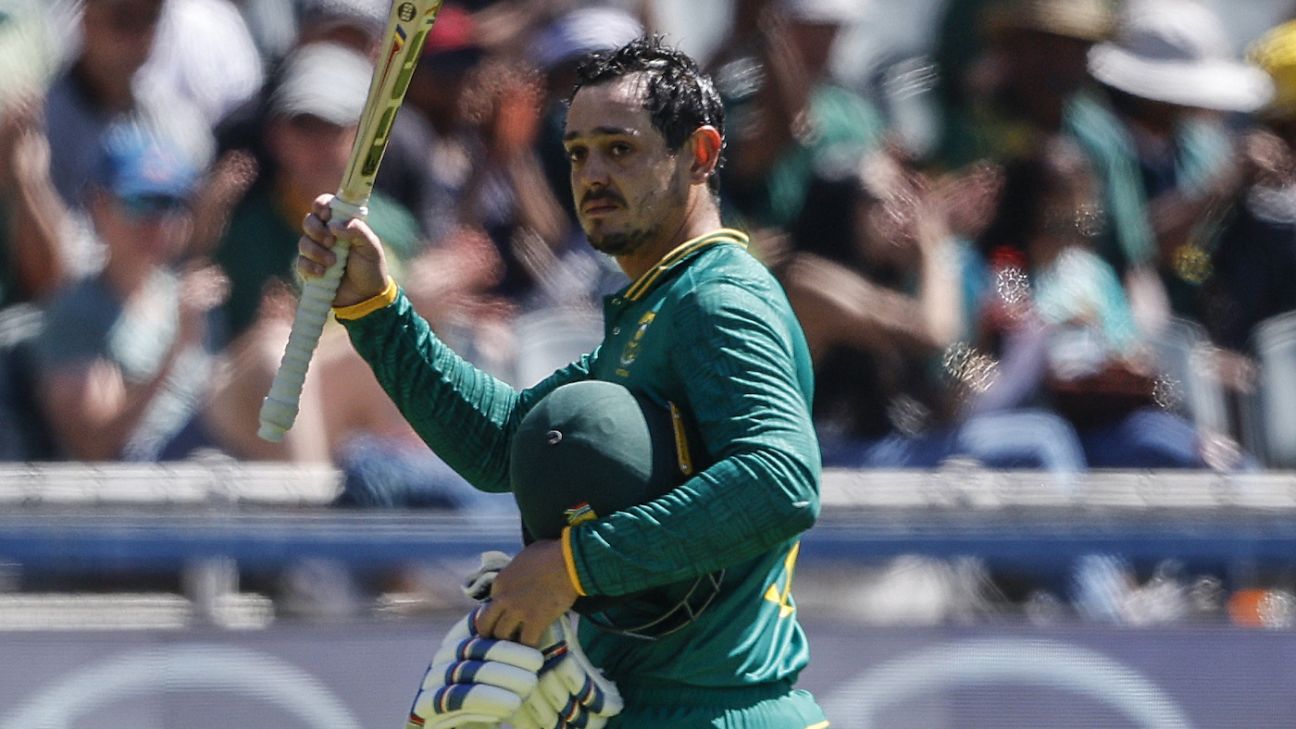 Quinton de Kock has admitted that the lure of T20 league money influenced his decision to retire from ODI cricket after this year's World Cup as he looks to "top up" his earnings as his career winds down. Although just 30 years old, de Kock has been playing professional cricket for the last 11 years, retired from Test cricket almost two years ago and will continue playing T20 cricket, both internationally and in leagues around the world, starting with the BBL in December.
De Kock made himself available for Australia's competition even though it will clash with South Africa's white-ball series against India and shortly afterwards announced his ODI retirement. Asked by the host broadcaster, in an interview ahead of his final home ODI, whether the T20 franchise circuit prompted that decision, de Kock confirmed that they did but maintained that his first priority had been South Africa.
"I am not going to sit here and deny that it doesn't. It helps with my decision. I've been around for 10 or 11 years and I've tried to keep my loyalty to the team, which I think I've done really well. I think I have represented the Proteas badge very well over my career," de Kock said. "T20 events – I am not going to deny that there is a lot of money and coming to the end of your career, guys want to get their final top-up before their career finishes. Any normal person would do it anyway. If I was really not that loyal I would have done it five years ago when it really took off. Now I am older and with me coming to the down slope of my career, it's time."
Though still a dangerous batter and lightning quick with the keeping gloves, de Kock's decision to wind down his career comes from a desire to spend more time with his young family. He stepped away from Tests shortly before the birth of his daughter Kiara and at the time said he and his wife Sasha planned to "grow our family," in the coming years and he wanted to be a present father. He has now also revealed the longest format lost its appeal for him. "It was a feeling I was getting," he said. "I remember at the end of my Test career, I was fighting playing Test matches. I only played 50 ([54] Test matches I think. I spoke to the people who I trust in my life and they said if you want to, there's no shame in it, retire so you can focus on other formats."
In the 21 months since, de Kock has played 21 ODIs and 19 T20Is for South Africa, scored one century in each format and averages slightly less than his overall numbers. He implied the slight dip may come from his changing role in the team – from maverick youngster to senior professional.
"I've been around for 10 or 11 years and I've tried to keep my loyalty to the team, which I think I've done really well. I think I have represented the Proteas badge very well over my career"
Quinton de Kock has no regrets
"When I was younger, it was easier because they knew what I could do and we had senior guys like AB (de Villiers), Hash(im Amla), Faf (du Plessis) and JP (Duminy). They just let me play. They didn't try and stop me and said I must just keep being aggressive," he said. "Over time it's changed. Somehow, I try to play a situation that has been put before us. There's a time for me to be aggressive but there's also time just being out in the middle and trusting I can just catch up an innings. I've learnt another way to score runs and I had to take control of the senior group. Guys like myself and David Miller – we had to lead the group. Somehow through that process, my game has got a bit more enhanced than being the guy who just smashes it the whole time."
That's why when asked for his best memories, de Kock doesn't immediately think of his career-best ODI knock – the 178 against Australia in 2016 – but turns to events like his half-century in a Test in a Galle in 2014 as an example of his grit.
"We won in Sri Lanka one-nil, which is never an easy feat for teams not from the subcontinent," he said, also recalling his first ODI hundred against Pakistan in Abu Dhabi and three ODIs hundreds in a row against India in 2013, which helped him make his name.
"I've had a lot of good memories along the way, things you can't just forget," he said. "The guys know I am an elephant, I don't forget. There are things I don't forget. I remember every last bit of detail about everything. It's some skill I have just developed."
His memory may not enjoy the way his final ODI innings at home went. He scored 27 of 39 balls before being caught at slip and walked off to a standing ovation from his home ground at the Wanderers.
This was his 144th match and he will add a maximum of 11 more to his name at the World Cup. And what does he plan to do other than play T20 cricket after that? "I will take a gap year for sure and then reassess," he said. "And then I will just go back into society and be a normal person."