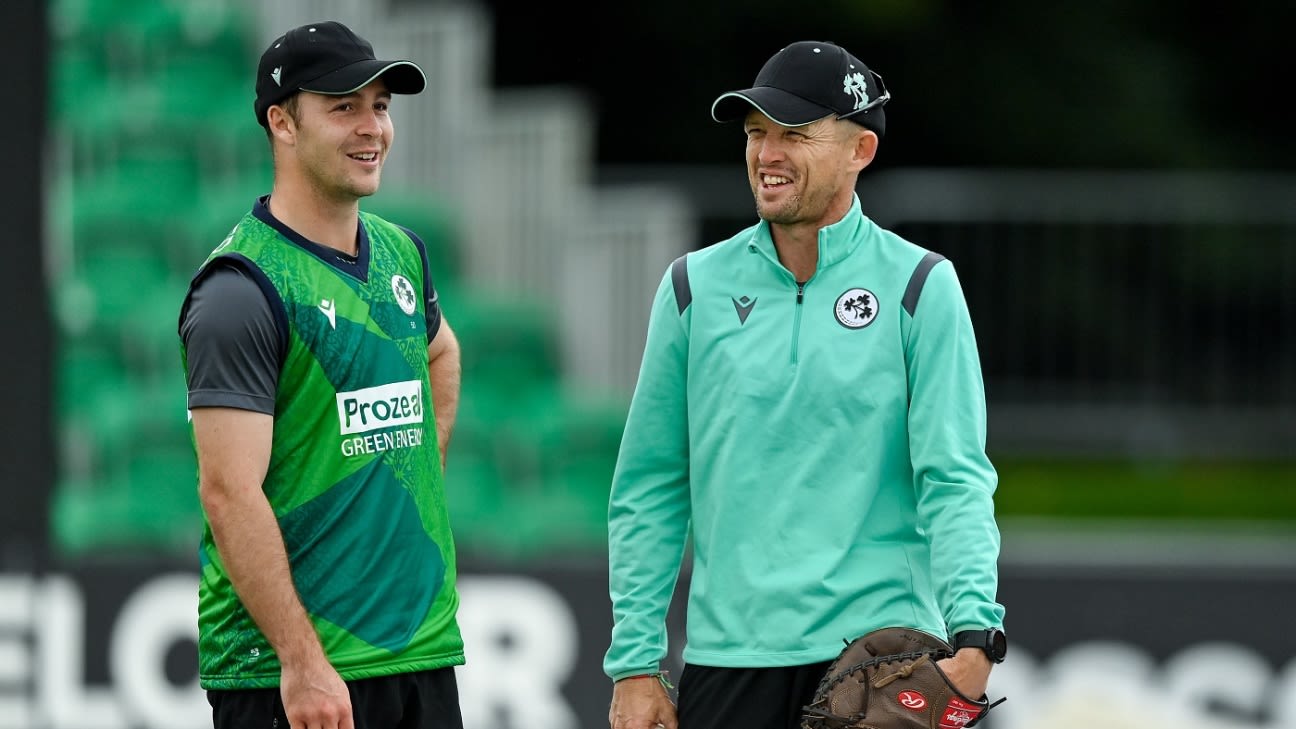 While the rest of the world turns its attention to the 2023 World Cup in India next month, Ireland's focus has already shifted to the 2027 campaign, according to their head coach, Heinrich Malan, as the squad prepares for this week's three-match ODI series against England – their first 50-over outings since failing to qualify for this year's tournament.
Cricket Ireland has yet to conduct its official review into the team's disastrous qualifying campaign in Zimbabwe in June and July, a performance that Malan admitted "still hurts us". Despite arriving with high hopes, Ireland lost each of their first three matches, against Oman, Scotland and Sri Lanka, to crash out in the group stages of a tournament from which Sri Lanka and the Netherlands claimed the two available World Cup spots.
As a consequence, the coming series lacks a degree of context, certainly compared to the opportunity for fine-tuning that it might have offered had Ireland been due to set off for India next week. With the notable exception of Joe Root, who was this morning added to England's squad for some last-ditch practice after a fallow series against New Zealand, none of their 13-man squad are bound for the World Cup either.
"For us, it's having an eye on building towards 2027," Malan said. "Yes, it's still a long period away but we've got to make sure that, every time we play, we are clear on what those objectives are and try and execute that to the best of our ability.
"A fair few of our lads are really excited about these opportunities, to come over here and play more 50-over cricket, and hopefully kickstart another cycle for us in the one-day format. We've got some exciting players that have shown that, over time, they can perform and here's another opportunity for them to do that."
Ireland are actually coming into this series on something of a winning streak in white-ball cricket against England. They beat England by five runs on DLS in a rain-affected contest at last year's T20 World Cup in Melbourne while, three years ago, they also won their most recent ODI against England – and in memorable fashion too, chasing a record 329 at the Ageas Bowl to win by seven wickets, thanks to centuries from Andrew Balbirnie and Paul Stirling, who top-scored with 142 from 128 balls.
Stirling has since taken over as Ireland's captain, on an interim basis, following Balbirnie's resignation – and the pair will be forging a new partnership at the top of the order, following a rejig of Ireland's batting line-up that also involves a promotion of the 24-year-old allrounder Curtis Campher to No.3.
"Curtis has played that rescue role for us a few times, when we've been in trouble early doors," Malan said, citing the century he made from No.6 against Scotland in Bulawayo in June, after Ireland had been reduced to 70 for 5. "He's got some real quality and real capabilities in terms of facing the new ball. He's a very good player of hard pace, especially if it's short. And it's a natural progression in terms of the next step in his career.
"If you look around the world game, a lot of younger players started in the middle order and then made their way up the order. We're really looking forward to seeing how he goes, not necessarily just these three games, but over a little period. He knows he's got our backing in that space."
As with Ireland's opportunity to play a Test at Lord's back in June, on the eve of both the Ashes and the World Cup qualifiers, the timing of this series is less than ideal, with England in particular already turning their focus towards India. But Malan dismissed the notion that the side, led by Zak Crawley, was a "B-team", and simply welcomed the chance to play a full series against high-quality opponents.
"What are we crying out for is just more consistent cricket," he said. "Everyone's playing at the World Cup, and we won't be part of that this time around, so that makes us more hungry when we get these opportunities to play quality opposition at quality grounds.
"I don't think you can look at any team as being a B-side to be honest," he added. "These are top players that have done really well in the Hundred that's just been completed, and there's the nice addition this morning of Joe Root also coming to play the first game, so we're really excited about that.
"There's a couple of guys that played in the Test match, and a fair few of the lads that we played a year ago in the T20 World Cup. Josh [Little] played in the Hundred, Stirling played in the Hundred, so there's some nice information being shared around, and it makes for a more intriguing contest and one that I'm very confident our boys are very much looking forward to."
Andrew Miller is UK editor of ESPNcricinfo. @miller_cricket