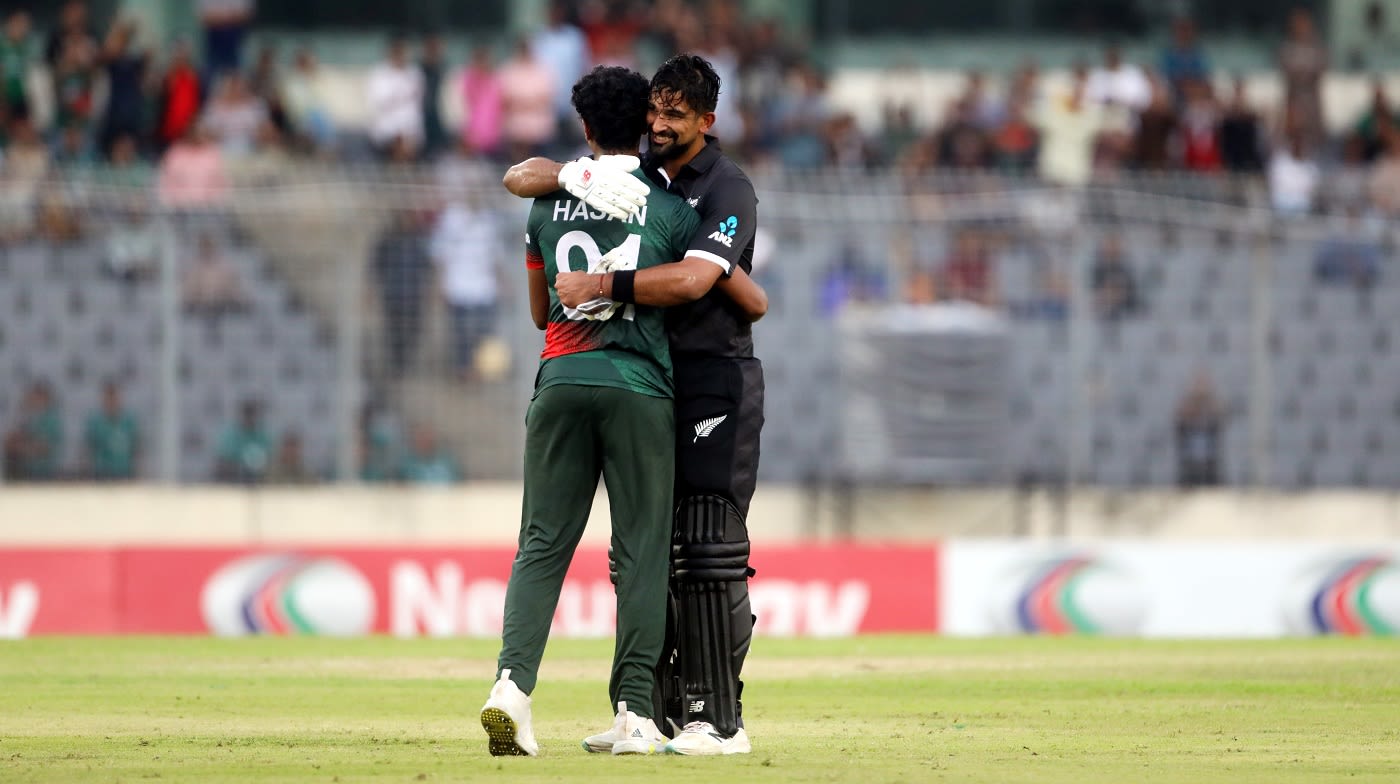 New Zealand 254 (Blundell 68, Nicholls 49, Sodhi 35, Mahedi 3-45, Khaled 3-60) vs Bangladesh
The most talked about moment of this innings came just as dying. In the 46th over, with New Zealand on 224 for 8, Bangladesh seamer Hasan Mahmud ran Ish Sodhi out for backing up too far at the non-striker's end. Sodhi was walking off, wearing nothing but a smile on his face, which suggests some players are starting to get used to this form of dismissal. But, a few seconds later, the Bangladesh stand-in captain Litton Das chose to withdraw the appeal and invited Sodhi back to resume his innings. Sodhi returned, wearing an even bigger smile on his face, hugged the bowler Mahmud and ushered New Zealand to a total of 254.
There was drama at the start as well, but that was along more expected lines. Bangladesh, in their Mirpur stronghold, had the visitors in trouble at 36 for 3. New Zealand fought back with a 95-run partnership between Tom Blundell and Henry Nicholls and benefited from further lower-order contributions so that an innings that didn't look like reaching 200 – they were 187 for 7 – made it all the way to 254.
Sodhi, who was on 17 off 26 when he was run out and recalled, went on to make 35 off 39 with three sixes.
It seems ages ago now but the day started with Mustafizur Rahman in fizz mode with the new ball. He extracted sharp bounce to nick off Will Young for an eight-ball duck. Mahmud found swing to trouble batters regularly. Finn Allen had picked up fours off the first balls of the first two overs but he couldn't keep the trend going. He fell at the start of the seventh over, when he flashed at a full ball from Mustafizur to Soumya Sarkar at first slip.
Debutant Khaled Ahmed (3 for 60) joined the powerplay party by having Chad Bowes whip a shortish ball straight to Towhid Hridoy at square leg. For the second time in two ODIs, Nicholls found himself having to repair the New Zealand innings, a job made easier by the new ball losing some spite and Blundell's thirst for a fight.
The duo passed the challenges put forth by Mahmud and Khaled by seeing off the good balls and punishing the ones that were short, wide or overpitched. It was just what New Zealand needed after they couldn't score off 45 of the first 60 deliveries they faced.
Bangladesh turned to their spinners Mahedi Hasan and Nasum Ahmed to build on the early pressure but Nicholls and Blundell always found a way to keep the scoreboard ticking. Blundell brought up fifty at the end of the 26th over but two balls later, the debutant Khaled got some extra bounce and subtle seam movement away to nick off Nicholls for 49.
Litton brought back Mustafizur with Rachin Ravindra's entry but the search for swing with full-pitched deliveries was met with sweet drives down the ground that gave the innings more steam. Eventually, Bangladesh had to turn to their spinners again and this time Mahedi struck, darting one onto Ravindra's pads to trap him lbw. Mahmud got the set Blundell with a searing yorker to leave New Zealand were 166 for 6 in the 34th over. Cole McConchie tried to put the pieces back together, scoring 20 off 33, but he was dispatched by Nasum when a ball spun sharply off good length to hit his back pad right in front of the stumps.
Kyle Jamieson and Sodhi were happy to play out a couple of quiet overs to get set, before unleashing regular boundaries to take the visitors past 200. But in a span of five balls, Mahedi had Jamieson caught and bowled and Mahmud had Sodhi run out. Except Bangladesh withdrew their appeal for the run-out and Sodhi used their generosity to smack a couple of sixes and, alongside Lockie Ferguson, pushed New Zealand a fair bit further than they looked like going.