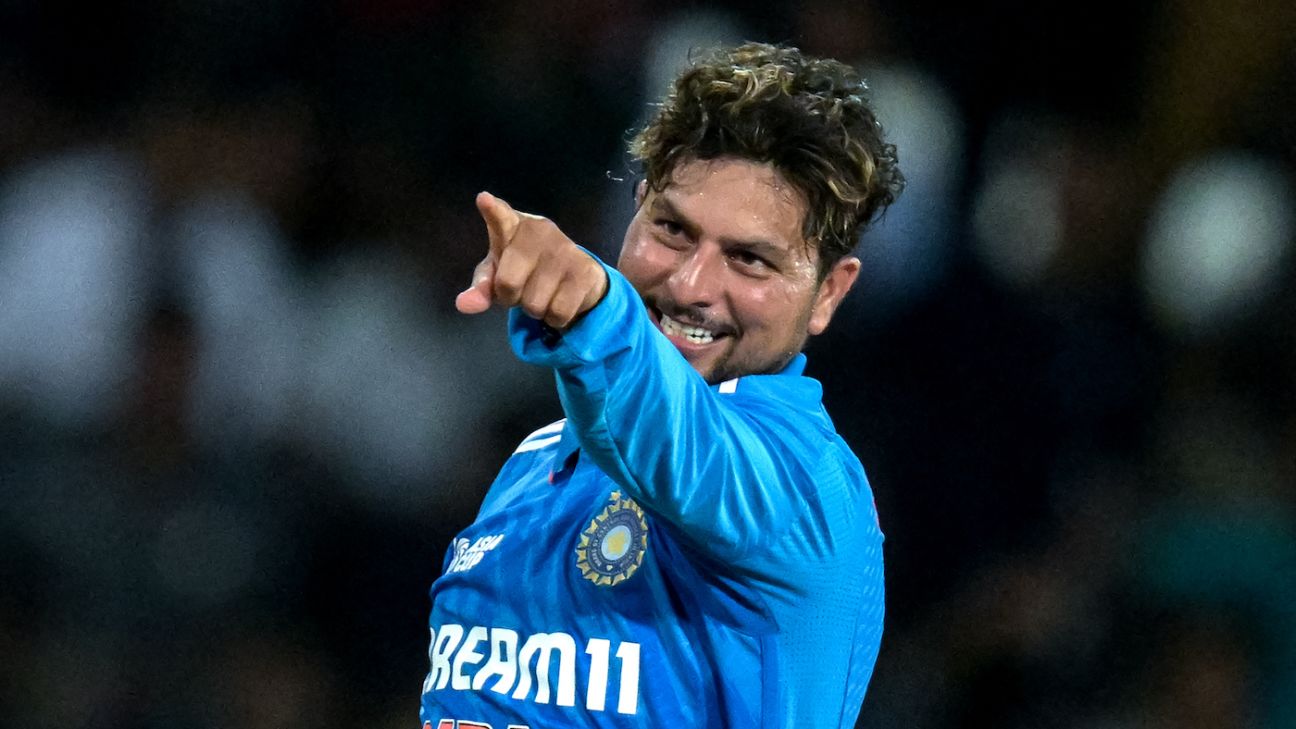 Kuldeep Yadav is riding a wave of confidence following a Player-of-the-Series effort at the Asia Cup. Ahead of the World Cup, the Indian team management is doing all it can to "preserve" its lone wristspinner in the squad, and not "expose" him much against Australia, by resting him for the first two ODIs.
"Kuldeep is a rhythm bowler, we all know that," India captain Rohit Sharma said. "But we thought of a lot of things and took this call. His bowling is going well, like Ajit [Agarkar] said, we had to give players a chance, especially those who played just one game at the Asia Cup and are in the World Cup squad.
"We have been looking at Kuldeep for the last one, one and a half years, this is why we don't want to expose him a lot. He is coming back for the last match. There are a lot of reasons. This is the best decision for us, to have him sit out for two games and play the third. We also have two practice matches [before the World Cup opener], so for the bowling rhythm, he will be back in it."
Kuldeep picked up nine wickets in five games, returning an average of 11.44 and economy of 3.61. All these wickets came across two games; he began with a five-for against Pakistan in India's record 228-run win and then followed that up with four wickets in India's spirited defence of a modest 213 against Sri Lanka. Kuldeep's control and variety earned plaudits from the coaches and experts alike.
Agarkar, who worked with Kuldeep at Delhi Capitals in the IPL not long ago, spoke of the virtues that make Kuldeep a vital cog in India's World Cup wheel. He reiterated how a little bit of "faith and confidence" could do wonders for a bowler's mindset.
"I spent a couple of years with him, he is a guy who has a special skillset," Agarkar said. "Every player needs to be shown faith, given a bit of confidence, which the team management has done and it is showing on the field. In various conditions and against varied opposition, he is one of the trump cards for the team. I'm happy and excited about what he is doing. Clearly, most teams coming up against him find it a challenge, and where he is at, all of us are excited at what lies ahead."