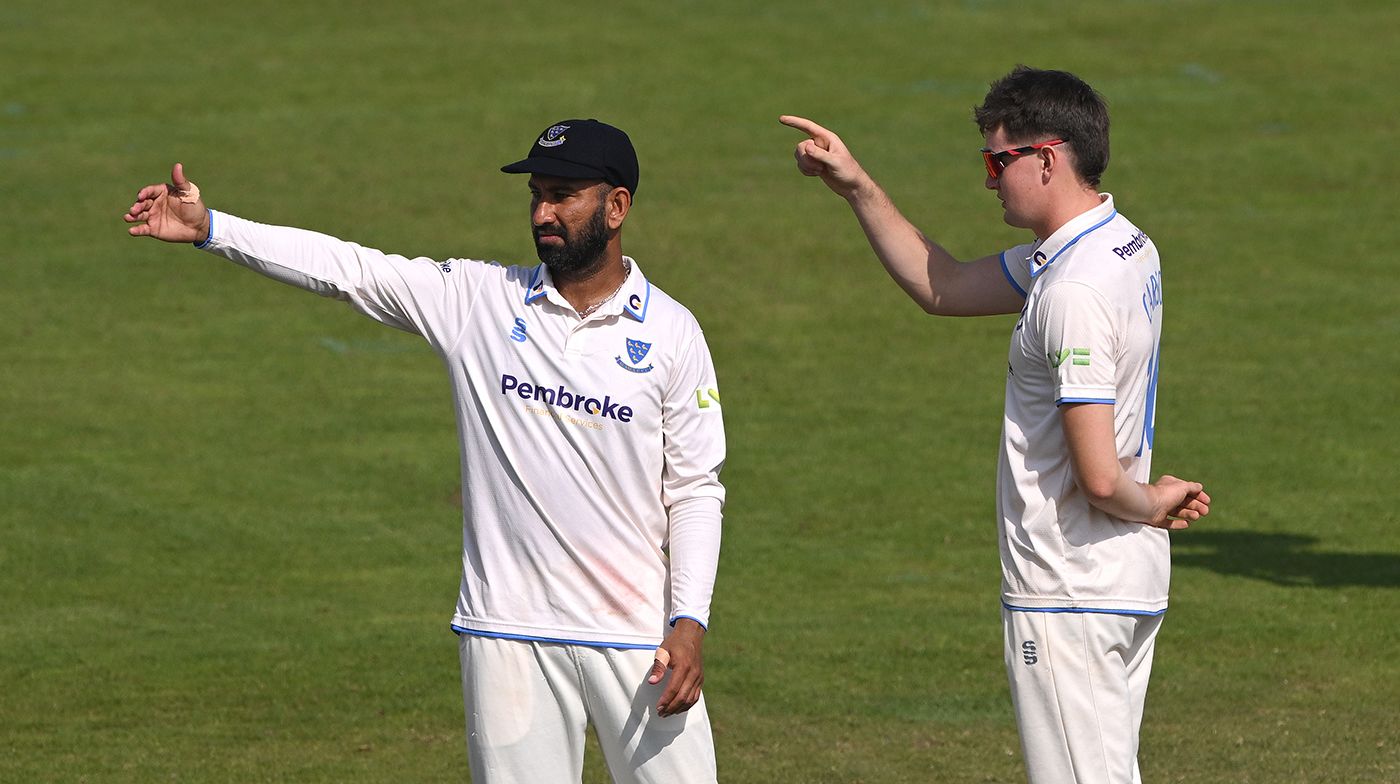 Sussex have been docked 12 points in the County Championship and will be without their captain, Cheteshwar Pujara, for this week's match against Derbyshire. Pujara received an automatic suspension after the club reached the threshold of four fixed penalties in the same season.
Sussex have also made the decision to stand down three players – Jack Carson, Tom Haines and Ari Karvelas – for behaviour that in the words of head coach, Paul Farbrace, "tarnished" the dramatic, 15-run win over Leicestershire last week.
Victory over their promotion rivals at Hove had kept Sussex in contention to go up, but they have now dropped to fifth in the table, 30 points behind second-placed Worcestershire with two games of the season left.
Both offspinner Carson and opener Haines, who is Sussex's One-Day Cup captain, issued apologies via the club website, while fast bowler Karvelas will remain unavailable while an investigation "into an incident in the Leicestershire game" is carried out.
"We have made Jack and Tom unavailable for selection for this game at Derbyshire," Farbrace said. "Following the umpires and match referee's decision to charge both players with on-field level one and level two offences, we needed to take a stance, and show them we will not condone such behaviours.
"Ultimately it has cost us the availability of Cheteshwar and we have been deducted 12 points.
"We have also decided it is not appropriate for Ari Karvelas to be made available for selection until the investigation that is in place has been concluded.
"This provides other players in our squad with a great opportunity to show they can perform at this level, and more importantly contribute towards the team challenging to win matches in the County Championship.
"It is a great shame that these incidents have tarnished what was a fantastic game against Leicestershire, and all the hard work that has gone into the season. I am disappointed for our fantastic members and supporters and can assure them we will be working hard to make sure we are not in this position again."
Sussex had previously been sanctioned twice by the umpires in the early part of the season, with Pujara guilty of a Level 1 offence in the opening game against Durham and Haines reprimanded similarly after the visit of Yorkshire to Hove.